Andrist Genealogy
---
Switzerland:
Swiss places of origin, where the Andrist ancestors came from.
The Andrist trail. Where did YOUR ancestors came from ?
Passports issued to Andrists in 19th Century by the State of Bern
Andrists living in 1798 (list of the men making the oath of allegiance to the Helvetic Government)
USA:
Andrist Memorials: Andrist Square; Andrist field; Andrist cemetery, ....
Andrist US land patents in the 13 Eastern States 1820-1908
Joint forces in the research of our ancestors.
---
In Switzerland the place of birth is not that important for registration. All civil registration is made at the place of origin ("Heimatort"; that's where the family comes from) independent of where one has been born or where one used to live. The place of origin is inherited from the father to the children. - So all Swiss people know where they originaly came from. Swiss Passport and ID-Card show this place as an identification criteria. Make sure you understand this very Swiss aspect at least a little bit. It's crucial to all making researches in Switzerland. From the 16th century to 1876 the church parish (mostly corresponding to the place of origin) was told by the Canton of Berne to record all civil changes like birth, wedding and death for all having their place of origin with it. Most of the church records have been microfilmed or are available at the Staatsarchiv as well as with Family History Library, (the LDS Church, Mormons), 35, North West Temple Street, Salt Lake City, Utah, 84150, USA or most of its branches. After 1876 the civil authorities at the municipality became responsible for the civil records.
Swiss Citizenship explained in more detail (by Klaus Augustiny)
The Swiss roots of Andrist families:
I got this information originally from Mr. Peter Gsteiger, who is working for the 'Staatsarchiv des Kantons Bern' (State Archive of Canton of Berne). The following five towns or villages are the places of origin of all the Andrist families.
The following table shows the five places of origin Aeschi bei Spiez, Boltigen, Därstetten, Erlenbach im Simmental and Oberwil each linking to a historical overview of the town, further a link to the list of the available church books and some information on film rolls available. The churches often had separate books for wedding-, batism-, death-records of the inhabitants and others for people baptismed out of town (for those having their place of origin with this municipality).
| | | |
| --- | --- | --- |
| The places of origin: | List of church records: | Available film rolls: |
| | | not yet available because the municipality refused to submit the records, researchers have to visit the civil record office at Aeschi bei Spiez |
| | | 4 film rolls; lost due to a fire: baptism 1627-1709, wedding 1627-1661, 1751-1815; death 1627-1683; some information missing on records between 1716 and 1728 |
| | | 4 film rolls |
| | | 5 film rolls |
| | | 6 film rolls |
The following map shows these places of origin and the Andrist mountains areas
Used colors and signs:
- dark grey for Switzerland
- dark blue for all lakes and some rivers
- light grey for the Canton of Berne (German: Kanton Bern)
- red dots for the cities, villages
- small triangle for Schilthorn / Andrist mountains area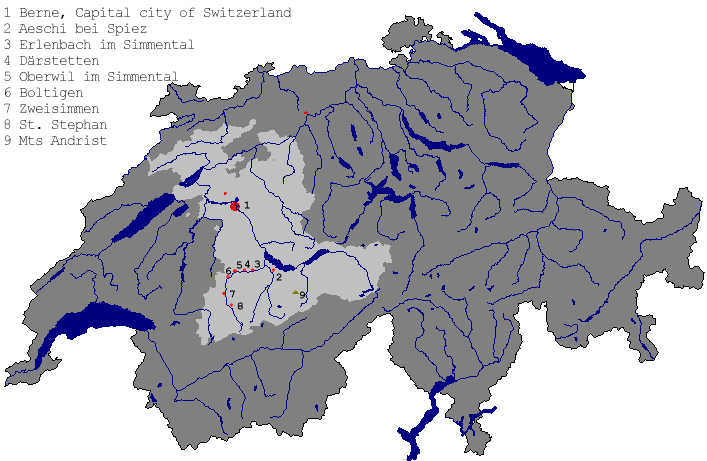 All villages are very close to each other. Four of them are in the Simmental (Valley of the river 'Simme'), which leads to the 'Thunersee' (the lake of Thun). This lake is about 50 kilometers in the SSE of Berne, the Capital City of Switzerland. Aeschi bei Spiez is out of the Simmental close to the lake of Thun.
How to find your roots back to Switzerland
Some of the Andrist I met in the Internet wanted to find out more about their ancestors in Europe. Let me give you the following tip. Before you contact any of the Swiss archives you should do the following: First of all, you should find out about your ancestors back to the year when they emigrated from Switzerland. Then you should know about the birthdays or wedding days and as an optimum: their "Heimatort" (citizenship / place of origin). Otherwise you will have to check all books over all the years (too many to go through). Finally you should learn to understand some old German handwriting (all books are written in old German characters). - And before you start your researches you might have a look at the following information and the already uploaded family trees. If you are part of the trees, may be all information you may like to have is already available.
We know about two main emigrations trails of Andrist families.
One family came from the Boltigen/Zweisimmen area. They had their rights of citizenship of Boltigen. Most descendants living in Ohio, Rochester / Berne area (MN), North Dakota and Estevan (Canada) are from this family.
Another family came from St. Stephan through New Orleans to St. Francis, Kansas. They had their rights of citizenship of Oberwil im Simmental although they didn't live there. Most descendants of the St. Francis Andrists (-Cadonau) are related to this families.
A third family was reported to emigrate from Erlenbach im Simmental to the USA but we never found their descendants.
The families are supposed to be of totaly different roots. The Swiss system of citizenship at least let us assume this to be true back to 1800 or earlier.

To Oberwil/Kansas descendants (Andrist-Cadonau) researchers: The birth records of the first imigrants for Kansas/Oberwil Andrists (Andrist-Cadonau family) are only available in the church records of St. Stephan, Byfang - their ancestors lived in Oberwil.
To Boltigen/Ohio/Minnesota/North Dakota/Saskatchewan descendants researchers: Some of the Boltigen records got lost due to a fact that the church burnt down in 1840. Please read above information.
Regional Guide (German text only. Under construction) *
Regional houses (German text only available) *
As the microfilms are available at almost every LDS branch in the USA, volunteering may be easy. To prevent people doing same research same time we list the following researchers which co-ordinated their activities already. If you are in researches too, if you would like learn more on researches in church book or if you to would like join our crew please contact willi@andrist.com
Doing researches on the ancestors of the first imigrants:
| | |
| --- | --- |
| for ancestors of: | researcher: |
| Kansas --> Oberwil/St. Stephan | Robbin Andrist, Willi Andrist |
| OH/MN/ND --> Boltigen | Willi Andrist |
Any additional volunteering is greatly appreciated.
Swiss genealogy and genealogy in general:
---
Index: Table of Contents - What's new - Introduction - Andrist Name - Places of origin - Family trees - Heraldry - Hear Swiss - Mountains - Legends - E-Mail addresses - Phone numbers - Chat - Individual Web pages - Andrist E-mail for you - Guestbook - Register for newsletter - Back to the Welcome Page